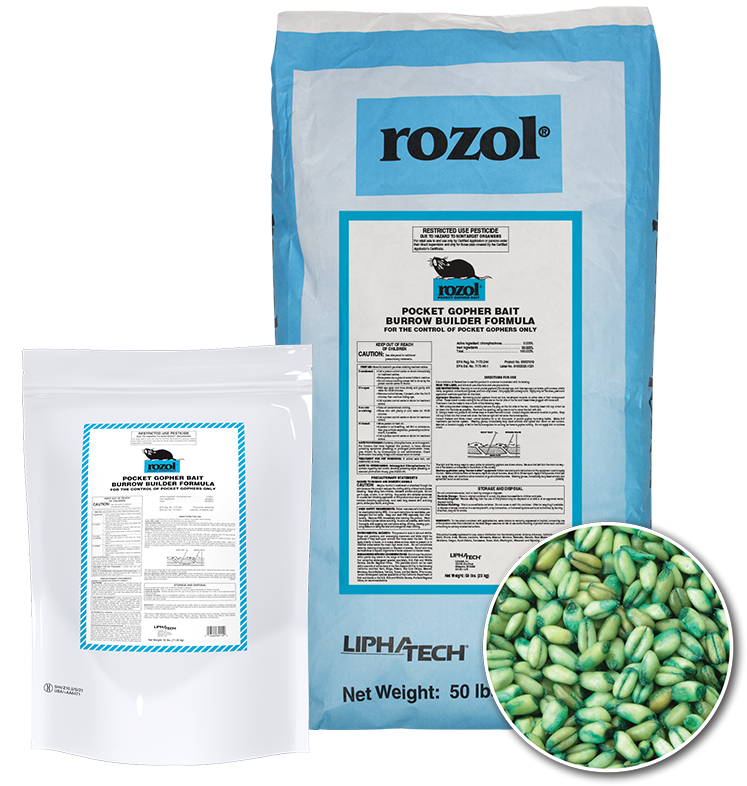 Rozol Pocket Gopher Bait – Burrow Builder Formula
Rozol® Pocket Gopher Bait (PGB) Burrow Builder Formula, when applied through a mechanical burrow builder, provides effective and economical control. Control is via preventative and curative bait applications in and around irrigated alfalfa fields, orchards and groves.

It is labeled for use through tractor-mounted, burrow-builder equipment that creates artificial burrows and places the bait below ground in those artificial tunnels. The label also permits hand baiting.

Rozol PGB Burrow Builder Formula applied as preventative perimeter treatments around crop borders, offers the advantage of intercepting gophers before they reach the interior of the field and cause damage. Burrow builder equipment can be used at speeds of 5-10 mph, allowing landowners to treat large acreages more quickly than other methods such as trapping or fumigants.
Restricted Use Pesticide
Rozol PGB Burrow Builder Formula (EPA Reg. #7173-244) is a Restricted Use Pesticide (RUP) approved for use by state certified pesticide applicators in AR, AZ, CA, CO, IA, ID, IL, KS, LA, MN, MO, MT, NE, NV, NM, ND, OK, OR, SD, TN, TX, UT, WA, WI & WY. It is the responsibility of the user to read and follow all label directions.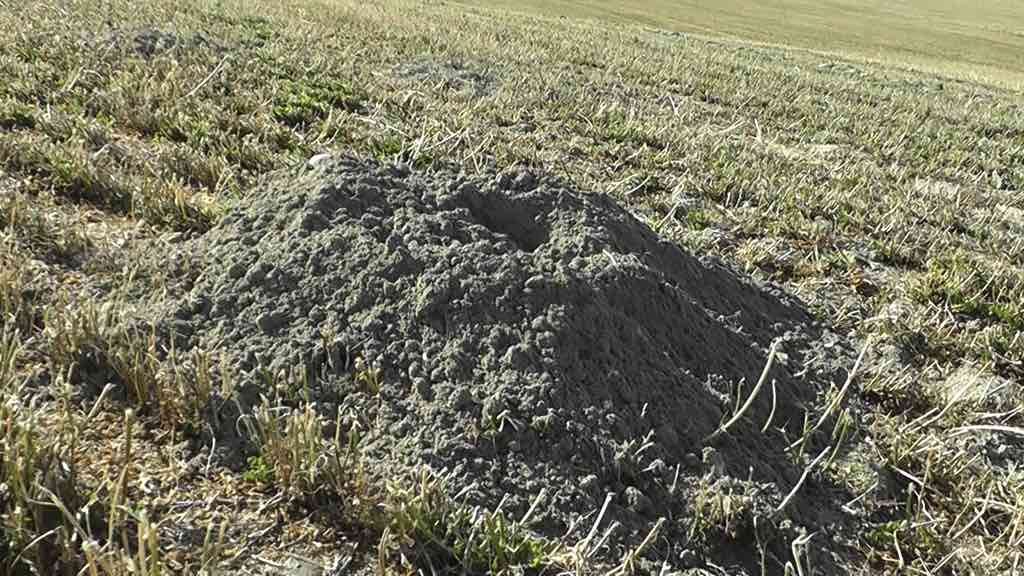 Why Rozol PGB Burrow Builder Formula?
Effective control, palatable bait

Weatherability:

Does not lose its effectiveness when wet.

Convenient application method:

Tractor-mounted burrow builders allow for proactive perimeter treatments of large acreage.

Waits for the rodent:

When placed in the burrow, the anticoagulant bait is stable; it takes effect after the rodent eats the bait.

Customized support:

Contact us for questions about best use practices, following the label, application equipment, or locating a Certified Applicator in your area.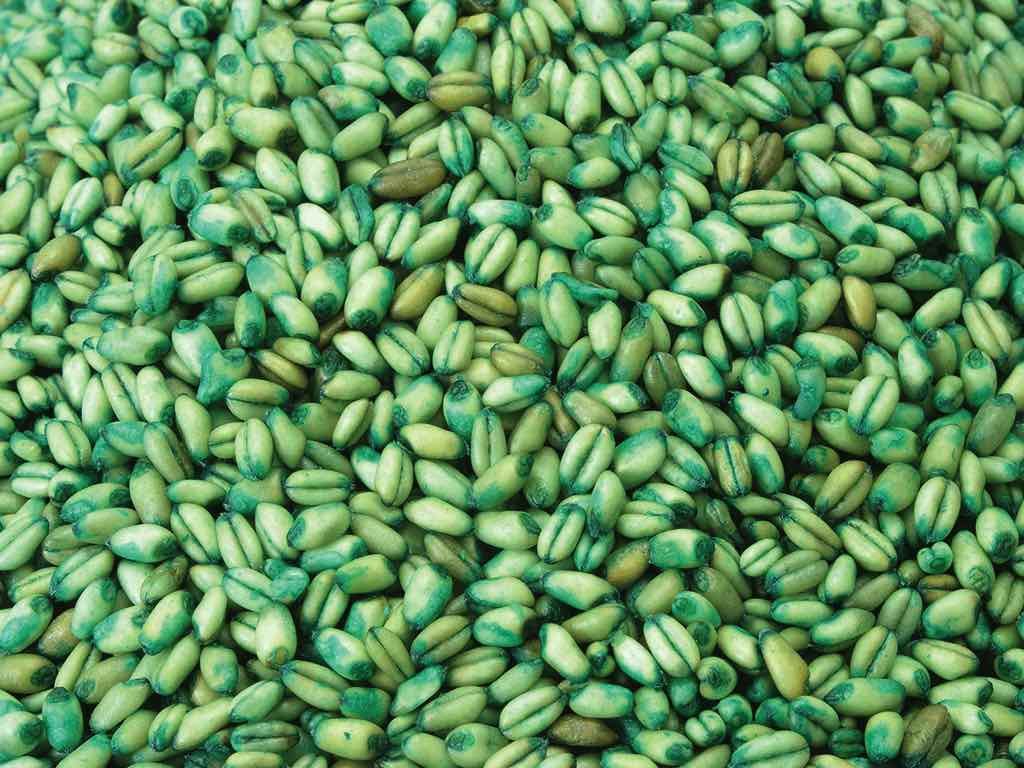 Product Details
Active ingredient: Formulated with chlorophacinone (50 ppm), a multi-feed anticoagulant rodenticide; Vitamin K1 is the antidote.
Coverage: A 25 pound pail of Rozol PGB Burrow Builder Formula covers roughly 100 1/2 cup treatments or 4 acres.
Bulk density: 78 lbs./cubic foot (1.25 g/ml).
Type/appearance: Blue-green kernels. Approximately 751 grain kernels per ounce or 12,000 kernels per pound of product.
Storage: Store in a tightly closed container in a cool, dry place inaccessible to children, pets, livestock and non-target animals.
EPA Reg. #7173-244.
Burrow Building
Burrow Builder Formula is labeled for use with tractor-mounted burrow builders such as the Verminator. Burrow building is a preventative perimeter treatment where artificial burrows are created and bait is placed below ground, intercepting gophers before they enter crop fields.
Burrow building equipment allows landowners to treat large acreages more quickly with rodenticide bait than doing it by hand.
For information on where you can purchase the Verminator, visit our Partners page.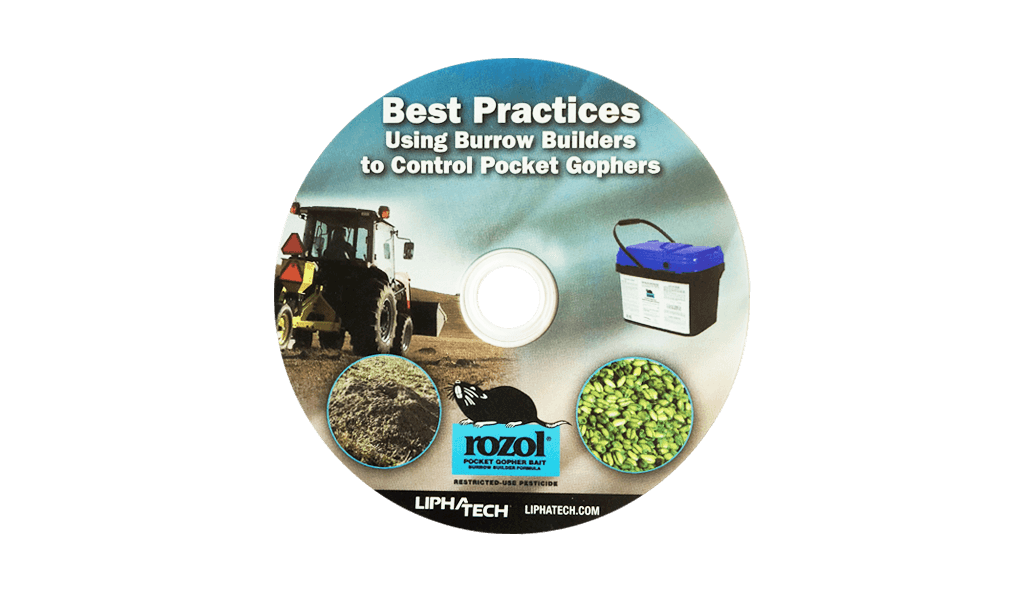 Free Best Practices DVD
Request your free copy of Using Burrow Builders and Rozol Pocket Gopher Bait Burrow Builder Formula to Control Pocket Gophers.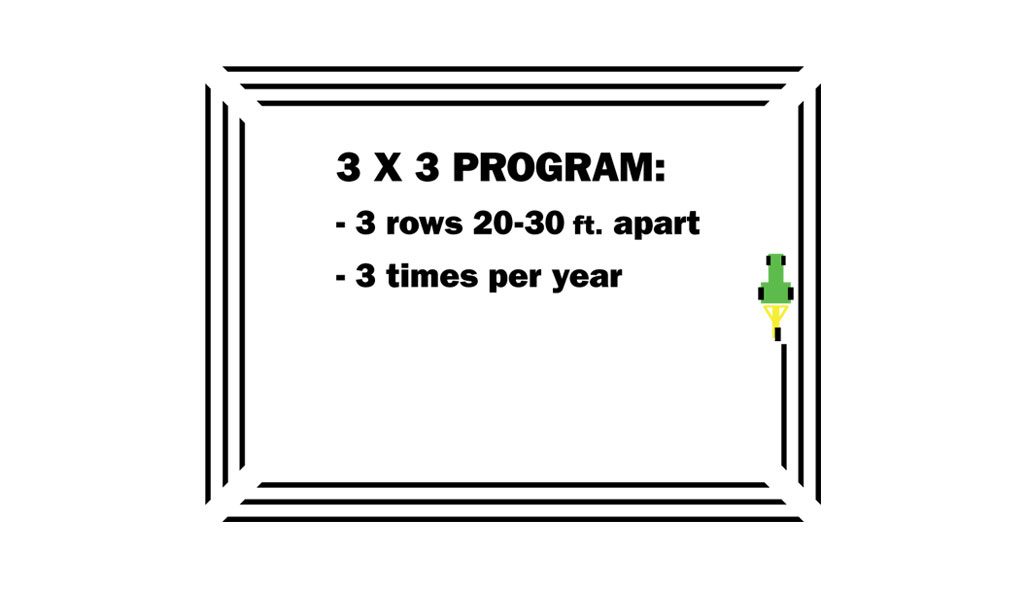 Preventative Perimeter Program
3 x 3 Program:
3 rows 20–30 feet apart
3 times per year:

October – November
March – April
June – July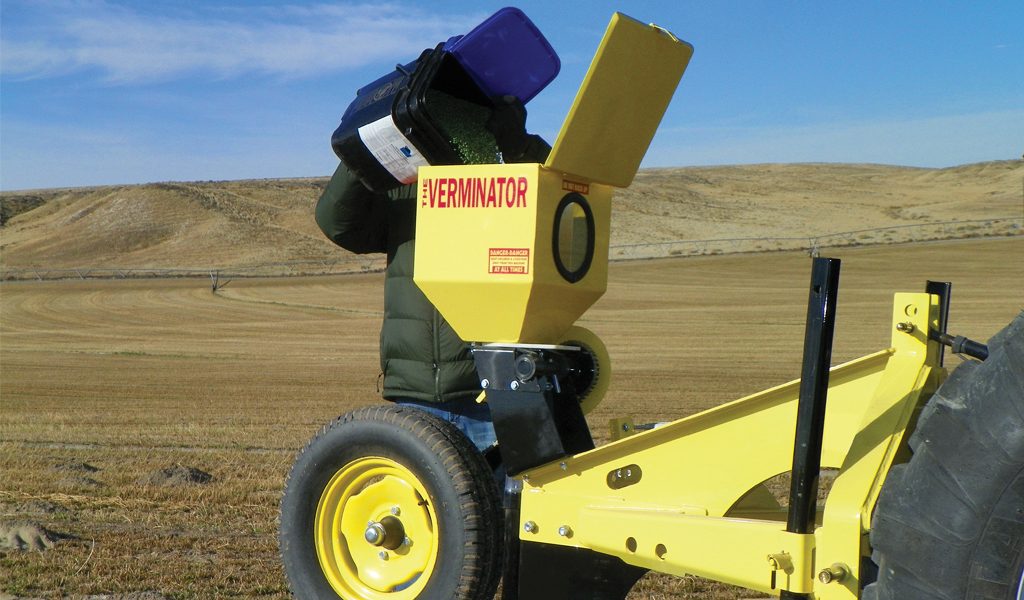 Rozol Pocket Gopher & Verminator Promotion
The Verminator is a tough, quality-built burrow builder made in the USA for farming professionals. For a limited time, end-users can earn up to $4,800 ($600 per 60-pail pallet) when purchasing a Verminator Burrow Builder and Rozol Pocket Gopher Bait Burrow Builder Formula. Offer available until May 31, 2023.
Download Rebate Form
Stewarding Resources for the Future
As part of our commitment to environmental stewardship, Liphatech is a proud member of the Ag Container Recycling Council. The ACRC collects and safely recycles the HDPE plastic jugs and pails from our ag, animal health and structural pest control products.